Latin American Guitar Music
Linde, Celia (Artist) ◊ Format: Audio CD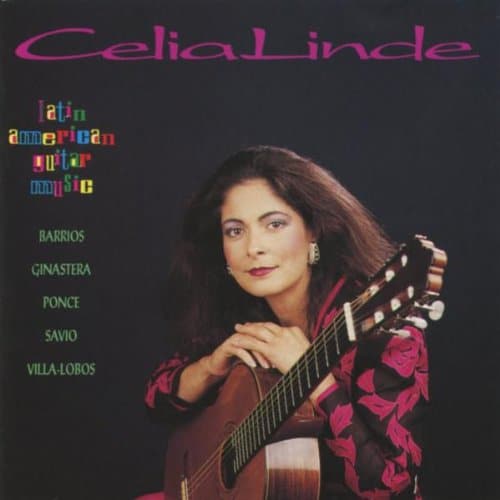 Top review from the United States
Reviewed in the United States on August 28, 2000
This CD by Celia Linde immediately became one of my most favorite classical guitar CD's. The quality of every recording and the acoustics are near perfect and the collection of songs is very easy to listen to over and over again. While the CD contains four modern pieces by Ginastera which I do not enjoy at all, there are no less than a dozen favorites on the CD.
The CD starts off with four fairly standard Villa-Lobos pieces which are performed flawlessly. The fourth, Etude No. 1, is a very fast-flowing arpeggio piece which demands absolutely perfect right-hand technique and coordination in order to evoke the intended feeling. Celie Linde plays it as well as any I've heard and makes it sound easy.
The 3 pieces by Savio are very upbeat and the Batucada will get your blood flowing just before the Cearense piece, Tear of My Heart, arranged by Carlos Barbosa-Lima. While the song is relatively simple, this performance is among my favorite top 2 or 3 songs of my entire classical guitar collection of over 100 CD's and LP's. The melancholy rhythm and melody will carve a place in your memory that will keep you singing it for days. Abreu's short Tico-Tico will snap your senses back to the happy rhythm of a Tango, followed by the Pernambuco, Sounds of Bells, also arranged by Barbosa-Lima. It is also a simple, folksy tune that you'll find yourself humming some days later.
Linde's own three short movements, "Highway to the Pacific", are all very pleasant, with the 3rd one, Cons Salsa, ranking right behind Tear of My Heart as a favorite. There are several more light-hearted, short pieces by Lauro and Barrios that are played at a brisk, happy pace.
I cannot say enough about the stunning acoustic clarity and emotion captured on this recording. Most other classical guitar recordings will sound lifeless after hearing this one. I highly recommend this beautiful performance by an excellent guitarist. I only wish I could find more Celia Linde recordings.