Fanfare Archive – Featured Artist
Review by Colin Clarke
SHADES IN BLUE • Celia Linde, Carlos Barbosa-Lima 1 (gtr); Gustavo Colina 2 (cuatro) • PROPRIUS 2085 (49:29)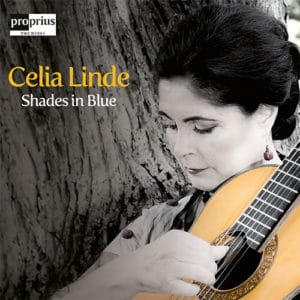 LINDE Epilogue. Contemplation. Fontainebleau. China Impression. 1 Imelda's Waltz (arr. Barbosa-Lima). 2 Rumba Surprise (arr. Colina). BROUWER Guajira Criolla. Danza Caracteristica. MONTAÑA Porro. ESCOBAR Chopi. CANTELOUBE (arr. Yasui) 1 O'Bailero. GUBAIDULINA Serenade. JÖNSSON Light Shadows…Blue. MYERS (arr. Yasui) 1 Cavatina.
Rather strikingly, Swedish guitarist Celia Linde begins her disc with an Epilogue of her own invention. (The piece is referred to both as "Epilogue" and "Epilog," the former in the composer/performer's own notes, the latter on the disc back cover track listing.) Beautifully contented music, both it and the tenderly improvisatory Fontainebleau are dedicated to Django Reinhardt and were inspired by a Reinhardt Festival in Fontainebleau, and also by a meeting with Django's son, Babik Reinhardt.
In Guarija Criolla, Leo Brouwer takes a Cuban song by Jorge Anckermann and turns it into a moment of pure guitar musing; the mood is continued by Linde's own Contemplation, with its beautifully pure harmonics. Brouwer's Danza caracteristica is splendidly acerbic music: sounds with an edge.
China Impression presents musical picture postcards from an overseas tour; the three heard here are the sixth to the eighth movements. The shades of pentatonicism are beautifully evoked, almost elliptically, in "Winding Dragon" (which actually displays on my compact disc player as "Morning Ride to the Great Wall"). The contrasting "Mountain Mist" is gloriously performed with the utmost clarity and yet is fully evocative of its title, before a gentle homecoming in "Beijing Return."
The final section of the recital alternates arrangements with original pieces. Linde's own Imelda's Waltz is arranged by Barbosa-Lima for guitar duo (with herself as the other guitarist in the performance); intriguingly, the second guitar has a different tuning for the fifth and sixth strings, resulting in a rather dreamy atmosphere. If "Porro" from Gentil Montaña's Suite Colombiana seems a touch too naïve, it acts as a nice interlude before Linde's Rumba Surprise, in which Linde is joined by Gustavo Colina on cuatro (a Latin American stringed instrument that has a nicely contrasting sound here).
It's fascinating to have some music from Paraguayan composer Pablo Escobar. His Chopi begins charmingly before embarking on a thrillingly virtuoso journey, beautifully realized here by Linde. There is a lovely, imaginative moment of muffled tapping which adds that extra something.
Many will be aware of Canteloube's Chants d'Auvergne through recordings by (for example) von Stade and te Kanawa. Here is an arrangement of the most famous of them, the "Bäilero," fully evocative of a hazy, lazy Gallic afternoon. The juxtaposition of Canteloube and Gubaidulina must surely be unique, but this is an early work by the latter, her 1960 Serenade, enigmatic in utterance but not as yet particularly harsh or dissonant.
Playing music by her Swedish compatriot Reine Jönsson that she herself premiered in 2004, Linde gives a teasing, quasi-improvisatory account of Light Shadows, Blue. The final track, labeled as a "bonus track," is, like the Canteloube, arranged by Hawaiian composer Byron Yasui, this time from Stanley Myers's famous Cavatina. (If you don't think you know it, trust me, you do, and you'll be humming along, just like I was.)
This is a splendid way to spend 50 minutes: Linde is a fine, accomplished guide to this repertoire. She began her studies in Sweden (Malmö) and in Copenhagen, but it was during a Master's course at Geneva that she worked with Segovia. Taking his advice, Linde traveled to New York in 1984, where she enrolled in a post-graduate program at the Manhattan School of Music. Her biography quotes a mysterious UK Musical Journal Opinion, by which I take it is meant Musical Opinion. Colin Clarke