SHADES IN BLUE • Celia Linde, Carlos Barbosa-Lima (gtr); Gustavo Colina (cuatro) • PROPRIUS 2085 (49:29)
LINDE Epilogue. Contemplation. Fontainebleau. China Impression. Imelda's Waltz (arr. Barbosa-Lima). Rumba Surprise (arr. Colina). BROUWERGuajira Criolla. Danza Caracteristica. MONTAÑA Porro. ESCOBAR Chopi. CANTELOUBE (arr.Yasui) O'Bailero. GUBAIDULINA Serenade.JÖNSSON Light Shadows…Blue. MYERS (arr. Yasui) Cavatina.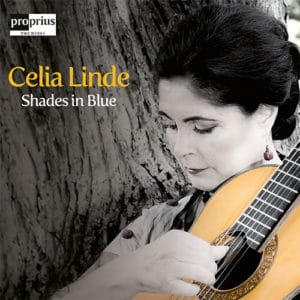 Many of the tracks on
Shades in Blue,
Swedish guitarist Celia Linde's newest CD, are of Latin American music, a genre for which she has a real flair as both performer and composer. And at least two of her previously released CDs—
Latin American Guitar
Music
[Bluebell of Sweden ABCD 048] and
Spanish Guitar Music
[Bluebell of Sweden, Bell 202] confirm that
Shades in Blue
is not a "one off" but that she has had a long involvement with and affection for music from that part of the world. I'm guessing that her studies with guitarist Carlos Barbosa-Lima, who accompanies her in his charming arrangement of
Imelda's
Waltz
—a lovely, lilting mid-tempo piece that will have you dancing around the room—may have played a part in reinforcing her love of the genre. In addition, we mustn't overlook her studies with Andres Segovia, the patrician dean of classical guitarists, who also commissioned and played his fair share of Latin, Spanish, and Brazilian music. As several of
Shades in Blue's
selections show a strong folk influence, it's interesting to discover that she's collaborated with cimbalom player George Mihalache on
Episodes on a Journey
, a disc not only of Gypsy music, as the presence of a cimbalom might lead one to expect, but of music extending from
Greensleeves
to Carlo Domeniconi's
Koyunbaba
(a contemporary guitar classic), and including a duet of
Shades in Blue's Epilogue
[watch it on YouTube at
Shades in Blue – Epilogue
].
For further evidence of her Latin love affair, there's KontraLinde [Caprice CAP 21665] her joint CD with violinist Anton Kontra, which, although it covers a wide range extending back into the Classical Era, with music by Italian Filippo Gragnani, French Napoleon Coste, and German Christian Gottlieb Scheidler, also includes Spanish/Argentinean composers like Joaquín Nin, Manuel de Falla—don't miss the music-only Danse Espagnole from his La Vida Breve on YouTube at https://www.youtube.com/watch?v=NFWxsbew_6g—and Astor Piazzolla. Finally, her CD with singer/composer Merit Hemmingson & Martin St. Hill leaves the Latins behind, being devoted to adaptations of such beloved pieces as Joplin's The Entertainer, Elgar's Pomp and Circumstance, Paganini's La Campanella and Bach's Jesus Bleibet Meine Freude and more, along with original works. Of course, any music Linde decides to play will benefit from her immaculate technique, colorful tonal palette, subtle rubato, and heartfelt expressiveness.
And now for a closer look at Shades in Blue: As I've said, several of these exceedingly attractive "numbers" show a    pronounced folk influence, from Brouwer's Guajira Criolla, with its sweet tune and delicate pizzicato touches, to his altogether more pungent, strongly rhythmic Danza Characteristica; to Gentil Montana's lively, somewhat jazzy, danceable evocation of a rural celebration (my interpretation), Porro; and in the same vein, Pablo Escobar's festive, irresistible Chopi, with added percussive guitar "bodywork,"; and lastly, Linde's Rumba Surprise, with its
captivating rhythm supplemented by Gustavo Colina's ear-tickling cuartro, somehow generating sounds mimicking rattles, castanets and even sighs [the cuartro is a small four-stringed instrument that either resembles a cross between a violin and a guitar or a ukelele depending on its country of origin). Pieces of a decidedly Latin character not necessarily linked to folk music—although who's to say that there isn't a subliminal influence—include Linde's previously mentioned Epilogue, with it's harmonically typical introductory measures, sentimental waltz section and it's eventually slightly giddy enthusiasm; the short but moving minor key Contemplation; and Fontainebleau, one of a series of pieces Linde wrote as evocations of locales that made a strong impression, with its insinuating tango rhythm—so much more Argentinean than French—and vigorous Flamenco-like strumming and rapidly ascending triplets adding just the right amount of "bite." Linde's love of scenic tone-painting finds further expression in her three-part China Impression, the first of which, Winding Dragon, starts out with a Latin vibe, but then adopts a more familiar Chinese aura. Mountain Mist, the slowest of the three pieces, incorporates slides reminiscent of various zither-like Chinese instruments; that, plus the slow oscillation between two notes in the bass sustain a hypnotic fascination. Beijing Return carries over that alternating-note drone, but this time as part of a lively, cheerful finish to an engaging travelogue.
I hear Sofia Gubaidulina's Serenade and Reine Jonsson's Light Shadows…Blue as "abstractions" in which certain aspects of Spanish music coalesce to form atmospheric evocations as opposed to idiomatic imitations. The Gubaidulina was a real surprise: I tend to think of her as a composer of large scale, contemporary but accessible works and this brief, at times delicate composition demonstrates that a "real" composer can successfully turn her hand to anything: I'm reminded of Ravel's several à la manière de compositions that self-effacedly absorb their honored composers' essential style. Granted, there are dramatic and occasionally dissonant, "modern" interjections, but they don't dominate the narrative. The Serenade's recitative—based on scalar patterns that to me are derived from Flamenco, and in turn from that genre's Moorish ancestry—give way to the gently melancholy central melody that took me a while to appreciate. It's not the immediately compelling, lyrically effusive song the title implies, but rather a reserved entreaty that's nonetheless very effective, as is the delicate, ascending "farewell" in single notes that conclude this perfect miniature.
Jonsson presents Light Shadows…Blue's "abstractions" as features of a tender, poetic landscape, more monophonic in texture than polyphonic, although there is one notable passage that, to my mind, summons Renaissance-era lute works that delighted in their polyphonic mastery. While there's no melodically memorable phrase with which to caress the ear, it's an effective mood piece, with a developmental process that reminds me of the extended expositions of Classical Indian or Arabic music that, even lacking fully formed melody, nonetheless ensnare a sympathetic listener in their leisurely progress.
Perhaps I should have included Joseph Canteloube's O'Bailero as part of the "folk-music" inspired section of this review, but I decided to separate it, as its inspiration—whether consciously chosen or unconsciously assimilated by the composer—is French rather than Latin or Spanish. It's No. 13 of the first of his Chants d'Auvergne, and according to the booklet notes, "is a well-known and popular song." My other reason for placing it here rather than towards the beginning is that I hear a kinship between it and the concluding work on the program, Stanley Myers' deservedly admired Cavatina, with its enchanting melody set with disarming simplicity. Performing together again, Linde and Barbosa-Lima savor every delicious moment of Byron Yasui's creative arrangements for guitar duo, not least the Cavatina's closing fade-out; it's a lovely adieu to this entrancing recital, for which Celia Linde contributed the reminiscent-laden and informative notes and her artistic daughter, Imelda (the dedicatee of Imelda's Waltz), a portrait of her mother that's a colorful complement to the cover's subtly tinted photograph. Robert Schulslaper
 Five stars: As beautiful as a guitar recital can be.