Naxos Music Group
Artist of the Month – Celia Linde, guitar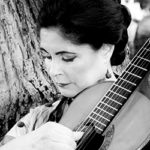 Guitarist Celia Linde is regularly acclaimed for her personal style, her captivating temperament and for her wide range of musical interpretations.
Born of Turkish/Swedish parentage, Celia was raised in Sweden and presently resides in Malmö. She studied under professor Per Olof Johnson at the Malmö Academy of Music where she earned her Master of Arts. Celia then continued her studies at the Royal Danish Academy of Music in Copenhagen and earned a Master Soloist Diploma with highest Honors. After graduating in 1984, she arrived in New York to specialise in South American music with Brazilian guitarist Carlos Barbosa-Lima at the Manhattan School of Music.
She performs standard works for guitar and orchestra and tours frequently as a soloist throughout Europe, the USA, Canada, Scandinavia and Turkey. Celia is often the featured artist on National Swedish Radio-Television and has also been profiled on the BBC, Denmark's Radio and Turkish Radio-Television (TRT), as well as New York's WNYC and other international radio stations.
In 1992 Celia Linde was chosen to give a solo performance at the Olympics in Barcelona for heads of state, including the Kings and Queens of both Spain and Sweden.
Celia Linde is also noted for her interpretations of contemporary music and has commissioned a number of works for solo guitar and guitar with violin. Among these are Sven-David Sandström's Six Concert Pieces for guitar and orchestra, Tommie Haglund's Beyond Farewell, Erland Von Koch's Amoroso for solo guitar and Duo Concertante for violin and guitar, Reine Jönssons Light, Shadows …Blue, and Per Nörgård's Intermezzi -Dirge or Dancing for violin and guitar.
Her original guitar compositions, such as Highway to the Pacific and Fontaine Bleue, regularly receive accolades from audiences and critics alike. Her dynamic solo programmes consist of her own compositions as well as those dedicated to her. She also highlights composers from the romantic Segovian era as well as a full spectrum of Spanish and Latin American composers, Swedish rococo, Turkish classics, and music from the Baroque period.
NEW
Celia Linde has just released a new album on Proprius containing a wide variety of delightful impressionistic and atmospheric pieces and dances from around the world, together with eight of her own compositions, including a suite inspired by a dawn walk on the Great Wall of China. There are also duets with Carlos Barbosa-Lima, such as the famous Cavatina by Stanley Meyers. This 50-minute album also features works by Leo Brouwer, Gentil Montaña, Pablo Escobar, Joseph Canteloube, Sofia Gubaidulina and Reine Jönsson.
'Guitarist Celia Linde has made an infinitely beautiful record, whose tender tone is just as intimate no matter how she moves across the globe, from Malmö to Paris or China to Latin America.' – Dagens Nyheter