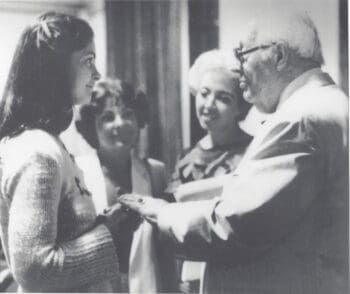 "Celia Linde is extremely gifted for the right interpretation of serious music on the guitar. Her technique is excellent and her musicianship exact, noble and expressive!"
In 1982 Celia Linde was selected to participate in a master course with Andrés Segovia at "Concervatoire de Musique de Geneve". The legendary guitarist predicted a distinguished international career. He described Celia as a guitarist with true musicianship at her disposal, able to cover all of the difficulties and beauties of serious music.
Born of Turkish/Swedish parentage, in Sweden Gothenburg, Celia presently resides in Malmö.
She studied under professor Per Olof Johnson at the Malmö Academy of Music where she earned her Diploma and Master of Arts.
Celia then continued her studies at the Royal Danish Academy of Music in Copenhagen and earned a Master Soloist Diploma with highest Honors.
After graduating in 1984, Celia arrived in New York to specialize in South American music with Brazilian guitarist Carlos Barbosa-Lima at the Manhattan School of Music.
She performs standard works for guitar and orchestra and tours frequently as a soloist throughout Europe, the USA, Canada, Scandinavia and Turkey. Celia is often the featured artist on National Swedish Radio-Television and has also been profiled on the BBC, Denmark's Radio, Turkish Radio-Television (TRT) and as well as New York's WNYC and other international radio stations.
In 1988, Celia Linde entered the international concert circuit with a brilliant US debut to a sold-out house in the Weill Recital Hall at Carnegie Hall. She presented the premier of the renowned American composer Bobby Scott, "Vera Cruz Incident".